Temple Metechi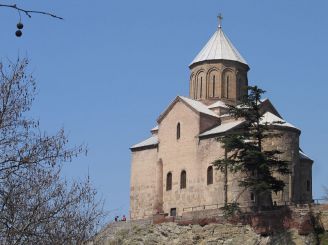 On the site of the modern Tbilisi earlier was a fortress city Metekhi, where, according to legend, the palace of the local kings, built founder of Vakhtang Gorgasali. Kura River, which washes the ancient fortress, was a silent witness to the history of the city - the repeated raids infidels left behind destruction, desecration of temples, looting and destruction of all living things. But the city has survived, could revive and preserve their faith and their shrines.
Of all the fortress complex remained only Metekhi Church (Church of the Assumption) - 1988 here again conducted the service. Magnificent temple, lying on high cliffs, bordering the Kura, is one of the main historical sites in Tbilisi. The main shrine of the temple - it is the tomb of the Holy Martyr Queen Ranskiy Shushanik (5th century), who died for their unwillingness to renounce the Orthodox faith. At the foot of Metekhi cliff stands the church of St. Abo of Tbilisi, who was executed on the site, which later became the patron saint of the city.
In the sixties of the last century near the temple Metechi was erected a monument to Vakhtang Gorgasali , immortalized in bronze on horseback. The whole territory of Metekhi gives the city a picturesque view and is one of the most visited places in the capital.
Tours and excursions
Продолжительность тура: 5-6 дней.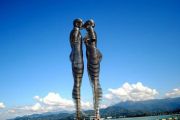 Продолжительность тура: 8 дней/7 ночей.