Taras Shevchenko Monument, Tbilisi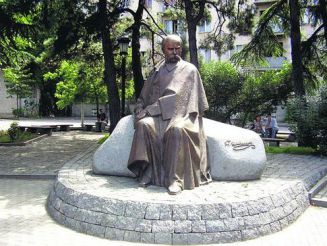 For Georgia, 2007 was a year of Ukraine. And after that, in early spring of 2007 in Tbilisi was a monument to famous Ukrainian writer and poet Taras Shevchenko. Opening of the monument took place in the presence of the President of Ukraine - Viktor Yushchenko.
The project was designed and sculptures made ​​in Ukraine experienced craftsmen, the Georgian side has only defined the place of the monument.
The monument, which was brought from the homeland of the poet was erected in a park on the street Melikishvili. The monument depicts a man sitting on a large rock with a serious Shevchenko Duma on his face. The size and location of the monument conceived so that it fits the person feels opinion of the writer, looking down at him.
In connection with the opening of the sculpture, Square was ennobled, planted flowers and installed new lighting.
On the birthday of the writer about his going to a large monument to the Ukrainian diaspora. Ukrainian schools in Georgia conducted competition of readers of works of the author. Later, near the monument takes a festive concert.
What to see near the monument to Taras Shevchenko
Tbilisi is rich in tourist attractions. There are many religious buildings and unique Marionette Theatre. Noteworthy Tbilisi zoo with nearly a century of history. The oldest part of the city, and its beginning, considered Sulphur baths . And located on the cliff palace Sachino enchant and inspire unique building with its romantic history.