Freedom Square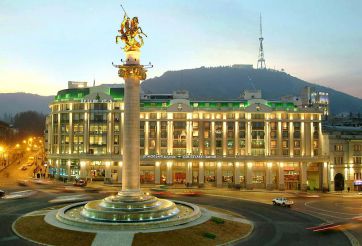 A tour of the capital of Georgia should start with the main square of the city. In the heart of Tbilisi`s Freedom Square is located where the city regularly hosts events and political actions.
In plain areas is high column, which is decorated with St. George, the dragon once. The monument was unveiled in November 2006. It symbolizes the freedom of the Georgian people. Creator of the monument was Zurab Tsereteli.
History of Liberty Square
In the past, the area was called the hotel or caravanserai is an open space in front of the city gates Kodzhorskimi. In 1827 it was renamed the Erivan Square named magistrates seized the fortress city.
Since the second half of the 19th century, the area began to take its modern form. Initially filled moat, and the market place and fights razed. Following the plan outlined streets leading from the square.
With the advent of Soviet rule the area was named after the famous Soviet politician Beria, and after a while, and the leader himself - Lenin. In early summer 1829 in a street adjacent to the Square, Alexander Pushkin lived, later became to bear the name of the great Russian poet.
An interesting fact about the Freedom Square
In June 1907 a group of Bolsheviks attacked the coach of the bank and stole 100 thousand rubles. The main part of the sum transferred into the hands of Lenin. Banknotes in denominations of 500 rubles for a long time it was impossible to change, as the number of bills have been hammered into the base. It was the famous robbery of those years.
How to get to Liberty Square
The area connects 5 street (Pushkin, Leonidze, Tabidze, Dadian and Abkhazia) and Rustaveli Avenue. For each of the roads can be freely accessible to the Freedom Square.
For tourists right on Freedom Square in the City Hall is an information center that will provide information free of charge to any interested person.