Dry Bridge Market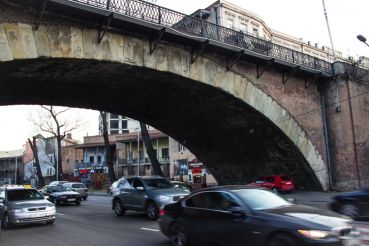 If you want to get to know another country, there is nothing better than to chat with the locals. And where, if not in the market, most manifest national characteristics. Here you can easily make contact with traders who are always ready to keep the conversation going, talk about old times, and do not forget about the present.
One of such places - the famous flea market in Tbilisi , which is in the center, near the Rustaveli Avenue, popularly referred to as the "Dry Bridge". The name of the market received from the bridge that connects the banks of the Kura River. But, over time, under one of the bridge spans the river drained and paved freeway.
Flea market, or referred to by the people "flea market" - a legacy of the dashing 90`s, when people were trying to survive at the expense of previously accumulated assets. Dry on the bridge came with the hope that something to sell or barter.
Over the years, many things have changed in the city, but the market has remained in the same place, in fact - he was one of the attractions of Tbilisi. It collected a huge variety of things - it is impossible to list all. For lovers of antiques and vintage items are not the best place to find a variety of market saturation and strikes. The proximity of the things belonging to different periods, gives a special flavor and attracts visitors and residents.
Market "Dry Bridge" located under the open sky and works every day, and sell mainly from the ground or from the machines. Bargaining is appropriate and even necessary - in addition to discounts on products from the catalog, contact with local vendors bring a lot of pleasant experiences, and leave a lasting impression from visiting the flea market "Dry Bridge".
Tours and excursions
Продолжительность тура: 5-6 дней.
Продолжительность тура: 7 дней/6 ночей.