Paravani Lake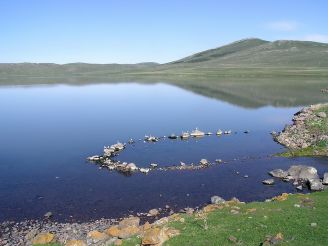 Lake Paravani located in southern Georgia - namely, in the region of Samtskhe-Javakheti region, which borders with Turkey and Armenia. Locals also call it Farvanis TBA TBA or Paravnis.
This lake I S THE biggest in the country. Behind him you can see Samara ridge. It is worth noting that there is enough space desert. Paravani has altitude 2073 m. The area of ​​the lake is just over 37 square kilometers and a maximum depth - up to 4 m. The water is very turbid and deep 4 cm was nothing to be seen. In winter the lake may freeze, since the climate is very severe, sometimes ice thickness reaches 73 cm.
Mystery Lake Paravani
Besides the beauty, the lake Paravani keeps a secret. Her long to reveal because of turbidity, but with the involvement of large number of experts from different fields of science and divers managed to find out what is hiding under the water burial mounds 4 century BC. Later, the scientists were able to get different things and details of everyday life, utensils, ceramics and so on, indicating a highly developed culture of ancient people. In the heart of the settlement hidden burial, but it has not yet managed to reach.
In fact, there are other questions of the scientists: as a settlement was under water? Most likely, as a result of a disaster. Paravani just flooded and the city with them. Also, once near the lake and next to it the Doukhobors lived, they built villages, and indeed of Ninotsminda town, too, was created by them. Now there are about 150 in the village of Doukhobor Gorelovka.
Attractions near Lake Paravani
Not far from the lake, in the village of Foca, is the 11th century Hall Church of St. Nino. The restoration was carried out in the 90s of the last century. Now there are also undeveloped dairy and monastery. Cheeses of this production can only be found here.
In addition to the church and monastery there remains of a medieval fortress Khertvisi . First church was built here, and then there was a fortress, which later became a city. It is destroyed by the Mongols, the Turks captured and then, and only in 1828 it was returned. Also seen here Shaori fortress, built of stones. Its exact purpose has not been fully established.