Bodbe monastery
Bodbe monastery is located in one of the most beautiful parts of Georgia - Kakheti, near the town of Sighnaghi . Here are the relics of St Nina, which is considered the great enlightener of Georgia. She came to Georgia with a cross from the vine, bonded hair girl, and was able to perform the mission, the Virgin who appeared to her - this appeal to the Orthodox faith of the local people. Among the nobles, who accepted Christianity were King Mirian and Queen. Immediately after the death of St. Nina, in a sign of respect, the burial place of the king erected a church. In the following century, the temple was expanded, and the tomb, richly decorated, are of particular reverence among Christians.
During its long history Bodbe monastery experienced many events - the invasion of the Mongols, Iranian expansion and raiding other warring tribes, which led to a strong destruction. But concern about the ruling dynasties Bodbe monastery helped to survive and become one of the main religious centers. There was a library of unique books and manuscripts, but in Soviet times it was lost along with the church utensils. After the revolution, the monastery was closed, and only in 1995 it was decided about the revival of the monastery and the creation of a nunnery.
The Cathedral of St. George, which is part of the monastery complex, preserved murals of the 9th century and fragments of paintings dating back to 12-17 centuries. Near the monastery is the source of St. Nina healing water, there is built-bath, where anyone can bathe. For swimming there are special white shirts "apartment," (they are sold near the source), which must be put on a naked body and plunge three times.
To venerate the relics of St. Nina, comes a huge number of pilgrims from around the world. From the monastery offers a breathtaking panorama of the Alazani Valley and the Caucasus Mountains.
Tours and excursions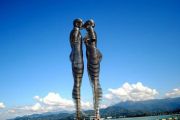 Продолжительность тура: 8 дней/7 ночей.
Продолжительность тура: 3 ночи /4 дня.