Gergeti Trinity Church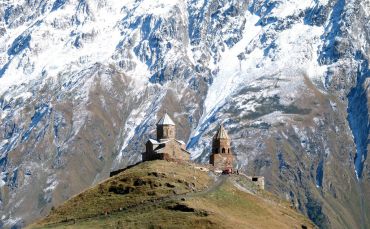 In the north of the country of Georgia, at the foot of Mount Kazbek, Gergeti Trinity Church can be seen. It is located at an altitude of 2170 metres in the Georgian village Gergeti on the right bank of the Chkheri River, right next to the town of Stepantsminda. The temple is quite big, though it seems a tiny one next to the giant mountain eternally covered with snow. According to some sources, the church was built in the 14th century. Today one can see its preserved domed building and belfry built in the 16th century. An impressive thing about this site is an unusual combination of snow and architecture. You can take a picture of the temple on the background of the glaciers of Kazbek. The interior of the church is quite modest – no frescoes, walls built of stone blocks. It's pretty dark there as windows of the temple are very narrow. However, that all creates an extraordinary atmosphere inside the church. In July, Gergetoba, aka Love Day, is celebrated there. Each year, it welcomes crowds of people.
Tours and excursions
Длительность тура: 3 дня/2 ночи.