Vardzia
In Georgia there are many unique places to visit. One of them - Vardzia, located in the province of Samtskhe-Javakheti.
The name of the monastery was born before its construction was completed. Very young Queen Tamara came to the construction site with his uncle, and playing, she lost. When he called the girl`s uncle, she shouted: "I am here, Uncle!" ("Ak-Var, Dzian!"). King George the Third, learn the story, called the Monastery Vardzia.
The history of the monastery Vardzia
Construction of the complex belongs to the 12-13 centuries. Located not far from the monastery of the glorious city of Borjomi. The total length of the entire monastery is 1 km and the width - 50 meters. The complex contains almost 600 rooms in the multi-storey building height. Here you can see the chapels and churches, rooms for storing eatables and the cell, baths and libraries, secret passages.
Center of the complex is the Church of the Assumption of the Blessed Virgin. Body amazing church kept arches and walls are decorated with extraordinary frescos. To this day preserved the image of Queen Tamar and her father, dated 12th century.
Construction of the monastery is due to the need for fortifications on the border with Iran and Turkey. The unique fortress closes the passage to the gorge. Today the rooms of the monastery can be seen with the naked eye, and in the past all the rooms were covered with a thick layer of stone and connected by underground tunnels. This architecture allows security detachments to move around the perimeter completely invisible to the enemy.
In 1283 due to the earthquake of the cliff fell into the river, exposing the interior of the monastery complex has lost its original meaning. Some time later, a monastery build, has attached to it a bell tower. In 1551 the Vardzia was destroyed and set fire to the Turkish raid. It was rebuilt after nearly three centuries.
Nowadays Vardzia cave monastery is one of the main attractions of Georgia.
Tours and excursions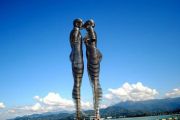 Продолжительность тура: 8 дней/7 ночей.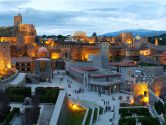 Продолжительность тура: 7 дней/6 ночей.