Rafting tours Georgia
Total tours:
capital of the country
autonomous republic
region
Guria

Kvemo Kartli

Rustavi

Racha-Lechkhumi and Kvemo Svaneti

Samtskhe-Javakheti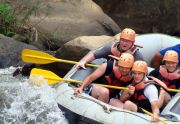 Рафтинг в Кутаиси
Даты тура: с 25 мая. Длительность тура: от 1 до 7 дней. Программа тура: В первый день выезд из аэропорта города Тбилиси в сторону запада Грузии по международной транскавказской магистральной дороге в город Кутаиси. Туристической группе любителей экстримального сплава предоставляется возможность посетить исторический город Мцхета, откуда происходит христианская культура Грузии, находящийся в 25 километрах от Тбилиси, где располагается занесенный в список Юнеско православный мужской монастырь...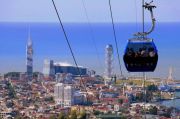 Ознакомительный тур по Грузии
Длительность тура: 7 дней/6 ночей. Маршрут тура: Кутаиси, Батуми, Казбеги, Мцхета, Тбилиси, Кахети. Программа тура: 1 день: Кутаиси Встреча в Кутаисском международном аэропорту. Выезд в Батуми. Размещение в гостинице. Обзорные экскурсии по городу Батуми. Ночлег в гостинице. На фото: Канатная дорога в Батуми. 2 день: Завтрак в гостинице. Оправляемся в сторну Кутаиси. По дороге, в курорте Цхалтубо, посетим пещеру Прометея, туристический маршрут — 1400 м. Нашим туристам предоставляется возможность...