Ski tours Georgia
Total tours:
capital of the country
autonomous republic
region
Guria

Imereti

Kutaisi

Kakheti

Kvemo Kartli

Rustavi

Racha-Lechkhumi and Kvemo Svaneti

Shida Kartli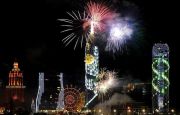 Развлекательные Рождественские и Новогодние туры в Грузии
Продолжительность тура: от 3 дней. Программа тура: Встретьте Новый год в Грузии и Вы не забудете его никогда! Грузинское гостеприимство и Новогодние традиции никого не оставят равнодушными. Новый год в Грузии называют «счастливый день» — это самый любимый грузинский праздник. На фото: Чичилаки — традиционное новогоднее грузинское украшение. У Вас есть уникальная возможность провести вечер 31-ого декабря в лучших гостиницах Тбилиси, Батуми, Кутаиси и Сигнахи, где...